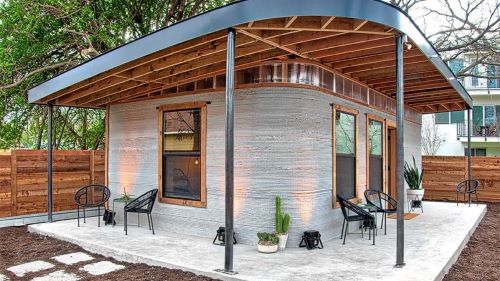 If you haven't paid attention to 3D printing technologies recently, you're missing out. It turns out that you can 3D print many things that you wouldn't have thought possible just a few years ago. The automotive industry has been using 3D printing technology for decades, using it for prototyping, custom jigs, and low-volume parts. Jewelry can be 3D printed now, as can replacement parts for manufacturing companies.
So what's this have to do with roofing? You may be designing your home with 3D technology one day soon and printing out every element, from the basement to the roofing of your KS home.
What is 3D Printing?
3D printing technology involves the construction of a three-dimensional object from a CAD or digital 3D model. The object is then built or "printed" layer by layer using a variety of materials. Objects can be printed out of plastic, metal, resin, wax – even concrete. The speed of the technology is what's appealing to most users, cutting significantly the length of time it takes to make an item compared to traditional manufacturing methods.
A House Made of Basalt
In a forest in Garrison, NY, an egg-shaped house stands, complete with a sleeping pod, bathroom, study area, and the other comforts of home. It was printed with a giant printer using 3D technology. It's experimental at this point, but architects and engineers are moving closer to being able to 3D print entire houses. Imagine being able to design your own home and then have someone print it to your specifications!
One of the biggest obstacles to fully-printed houses is the roof. Many 3D-printed houses still use traditional roofs made of wood beams and asphalt or other roofing materials. This is because of the weight of the roof and the strength of the printed house beneath. But as the technology evolves, it's likely that the roof will be 3D printed, as well.
3D Printed Roofing
In undeveloped countries, engineers are already using 3D printing technology to create affordable roofing options for lower-income populations. This roofing is based on the look of terra cotta tiles and is made from recycled plastic. Not only is it a less expensive option than traditional roofing materials, but it's also longer-lasting than the corrugated metal that's used in roofing on many buildings in underdeveloped countries. These 3D-printed roofing tiles come in two sizes and are interchangeable and interlocking. They can be used to cover a 12 x 12-foot room with no support, making them a logical choice for countries where it's difficult to get supplies in and out or where the population is economically challenged.
Premier Roofing in Kansas City
Shamrock Roofing and Construction doesn't offer 3D printed roofs just yet. But we do offer the best roofing services in KS and MO. We specialize in all residential and commercial roofing in Kansas city, including everything from a full roof replacement in Kansas city to answering questions you may have about new metal roofing options for your Kansas City home. 
We also offer residential customers a free roof inspection. Kansas City residents know they're working with trusted experts when they work with Shamrock Roofing. We've been in the roofing business in Kansas City for over 40 years and have lots of happy customers. Contact us today to get all your roofing questions answered. We look forward to working with you!